Maintenance of green environments
Plant care from day one and beyond
When it comes to the ongoing maintenance and care of the plants, we collaborate with local plant service companies. We partner with well-established, reputable, and experienced firms capable of tending to our projects.
For instance, in our Bovieran projects, where over 1,400 exotic plants thrive, individual plant needs must be met, and challenges can arise with living plants. Therefore, it is crucial that our collaborators can meet and resolve these challenges and that we can trust them with this responsibility.
Plant care by trusted partners only
In Denmark, we work with Jydsk Planteservice A/S as our partner for all our Danish projects. Jydsk Planteservice has over 30 years of experience in plant care for businesses across Denmark. Rooted in Jutland culture, their core values of responsibility, professionalism, and integrity are not just words on the wall but integral to their culture. This means they don't sell what they can't stand behind or service effectively.
Their core business revolves around plant care, where their greatest strengths, expertise, and focus lie. They have extensive experience in servicing large plant installations, including those from Bovieran projects in Denmark, designed and implemented by Palmproject Europe. They've also managed "Atrium" at Crowne Plaza's Copenhagen Towers, Schneider Electric in Ballerup, and Blixen near Aarhus. While the latter was their original design and delivery, the first two were initially handled by another landscaping company, which could sell but couldn't maintain what they sold. Consequently, Jydsk Planteservice had to undertake extensive restoration work and now manages both.
What sets Jydsk Planteservice apart is their in-house team of dedicated specialists. Whether it's dealing with pests, maintaining the pH balance in the growing medium, optimizing lighting conditions, or addressing other plant-related challenges, they have specialists for each aspect. This ensures that they can tackle any challenge that comes their way internally.
We have complete confidence in Jydsk Planteservice's ability to plant care and operate and maintain small and large projects. They've done it before, they continue to do it, and their business relies on their continued success in the future.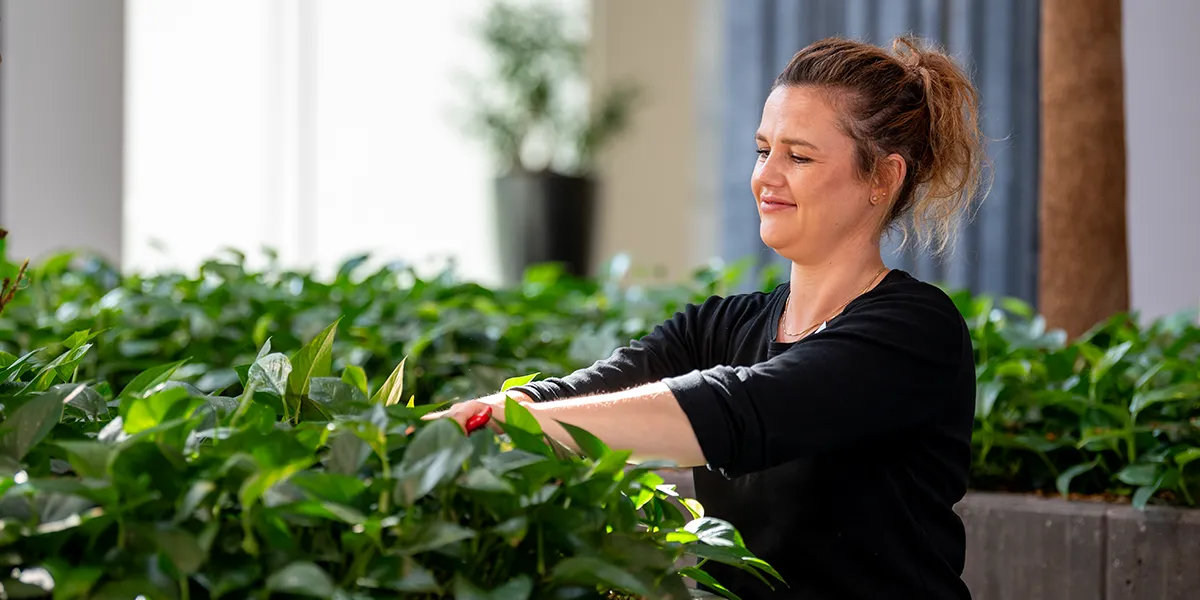 Knowledge sharing and cross-border inspiration for plant care
Across the rest of Europe, we find companies with the same level of expertise as Jydsk Planteservice, and we facilitate knowledge sharing and cross-border inspiration among the firms responsible for maintaining our projects at Palmproject Europe. This ensures that expertise within plant care is shared and inspiration flows, keeping the greenery in our projects thriving and flourishing, regardless of the project's location worldwide.

The importance of trust in long-term plant maintenance partnerships cannot be overstated. When it comes to tending to the intricate needs of plants in various environments, a high level of trust between project developers and plant service providers is crucial. Trust is the foundation upon which a successful and enduring partnership is built. It ensures that the plants will receive consistent and expert care throughout their lifecycles. We trust all of our plantservice partners across Europe, and we ensure that they can meet the expectations and standards we set for our projects, as well as those our customers anticipate for the plant care and appearance of their green spaces.